Exclusive Skincare Facials
All of our facials are customized and targeted to your specific skincare needs. Every facial session includes a complimentary assessment of your skin, along with any necessary extractions. It is important for you to list all medications and allergies on your consultation form, as this will benefit both of us in choosing the best facial for the health of your skin.
Our proprietary blends of pharmaceutical-grade ingredients are chosen for their targeted properties. These high-powered concentrated levels of ingredients will give you the beautiful results you want without the chemical additives that are harmful to your skin.
Classic Signature Facial Men / Women
This facial forms the foundation for all skincare services. This service includes a deep cleansing polish, an enzymatic treatment, ultrasonic exfoliation, and extractions. A relaxing massage follows with a customized mask treatment. The result is fresh new radiant skin .
Classic Signature: 60-min $78.00
Classic Signature with Luzern products: 60-min $85.00
Add on a Clinical Peel $35.00
(optional add on to your facial or a Pumpkin Peel)
Diamond Microdermabrasion
One of the most popular cosmetic brightening and resurfacing skincare treatments, this service is a non-invasive procedure with no chemicals or downtime. Diamond Microdermabrasion is appropriate for most skin types, because it can effectively reduce wrinkles, acne, age spots, stretch marks, and more. This procedure will leave your skin noticeably younger, feeling very fresh and new.
50-min Treatment: $95
75-min Treatment includes the Classic Facial: $145
Recommended in a series of 3 *
NEW! The Sun Lovers/Anti-Aging Facial/For Dry Skin
The anti-aging facial include's a thorough deep cleansing of the skin , a gentle polish and a Vitamin C light chemical peel (Extractions are included). Enjoy a relaxing aromatherapy facial massage to sooth all of your senses. A specialty hyaluronic mask with antioxidants will be applied to your skin ending with a serum containing antioxidants like vitamin C, peptides , stem cells and hyaluronic acid (which attracts water to the cells). This treatment will balance the skin to promote clear, well-nourished hydrated skin.
75-min $125.00
NEW! Growth Factor Facial
A new revolutionary deep cleansing facial utilizing ultrasonic infusion with a Growth Factor Rejuvenating Complex . This facial is a full session treatment including extractions, massage, and a intensive growth factor mask Treatment. The results are fresh beautiful radiant skin.
75-min $125.00
Growth factors are natural proteins abundant in young skin that are important for optimum skin health and beauty. They are involved in cell turnover and generation, collagen production, and elastin production.
Gf Rejuvenating Complex
1 vial per facial session
Epidermal and Fibroblast growth factors promote a more radiant complexion and firmer skin. Peptides helps smooth skin and increase elasticity. Hyaluronic acid protects skin from moisture loss and vitamin C guard against free radical damage.
Skin Conditions
Aging
Dehydration
sun damage
Rosacea
Sensitive
Acne
Problematic skin
Key Benefits
Ultra-pure, non-irritating formula that can be during and after many procedures to enhance results   
Smooth the appearance of fine lines and wrinkles
Supports new cell generation and firmer skin for younger-looking complexion
Copper Peptides (GHK-Cu): Can be effective against skin irritation, mainly due to their anti-inflammatory effect, during and after esthetic treatments for Optimize healing.
NEW! Red Carpet Treatment (Ultimate Renewal)
This specialized service includes 5 modalities to renew your skin with Diamond Microderm, Enzymatic Peel, Nano Pen, Microcurrent to tighten and brighten, with LED Light Therapy. A relaxing massage is included with aromatherapy and a specialized Mask treatment. The Result is Brighter, Tighter, Clearer Glowing Skin!
2-hour Renewal Treatment: $285
LED Light Therapy Session
The LED Light Therapy maximizes the benefit to your skin.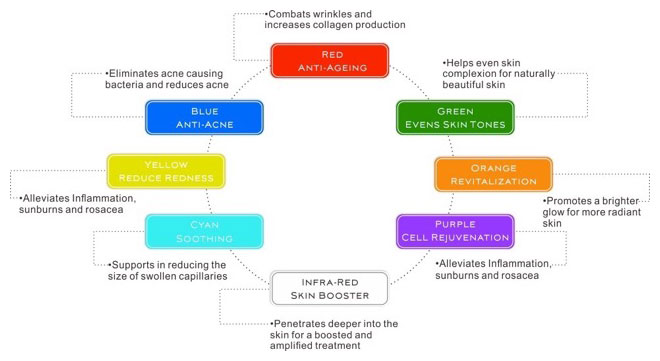 Step 1 begins with a polishing cleanse and a pass of Microdermabrasion.
In Step 2, a lactic peel is applied to hydrate the skin, followed by extractions and calming mask treatment.
Step 3 includes LED Red Light therapy. The powerful light stimulates collagen, minimizes pore size, tightens the skin and reduces fine lines. A veil of moisture, serum, and sunblock is then applied to protect your skin with antioxidants.
60-min $125.00

HydraFacial™ = Skin Health For Life
Lifelong skin health is our Philosophy. This 4 step service improves the quality of your skin with amazing results.
45-min: $175
Include Diamond Microdermabrasion for an additional $50.00
Elite Hydra Facial MD
Includes Dermabuilder ampoule and LED Light Therapy
60-min: $225
*Include Microdermabrasion for an additional charge: $275
Oxygen Facial with Luzern
A vitamin-infused blast of 95 % pure medical-grade oxygen with one or more high potency Bio Swiss organic serums. This is a full-service facial which includes the Ultrasonic deep-cleansing treatment. This facial provides instant results using the highest quality combination of oxygen, vitamins, minerals, peptides, and amino acids. The Oxygen Facial is both ultra-therapeutic and luxurious. Your skin will feel fresher, more hydrated and radiant.
This full-service facial includes ultrasonic deep cleansing treatment, a polish and pumpkin enzyme treatment, extractions, hand and arm massage, and luxurious mask treatment.
75-min Treatment: $145
Nano Pen / LED Light Therapy Facial
Our Nano Pen Facial is a treatment that can refresh, restore, and renew your skin using Nano Pen technology to create micro-channels in the skin's surface.
This service includes a cleansing polish, a blended enzyme treatment, and ultrasonic therapy. A customized mask treatment will be applied to balance and hydrate your skin. The finishing touch is LED Light Therapy. This treatment results in a tightening and brightening effect on your skin.
75-min $185.00
Some of the many beneficial outcomes of this treatment
includes:
Improves product absorption
Gentle exfoliation
Increases hydration and circulation
Trigger of the regenerative processes of the skin
Softens lines and wrinkles
Evens skin tone
Improves skin texture
Improves appearance of acne scarring
Boosts collagen production
* Can be used on lips
Microcurrent Facial (Non-surgical Facelift)
This facial delivers electrical signals to re-educate and restore the muscles in your face. Step 1 includes a double cleanse. Step 2 involves a blended enzymatic treatment. Necessary extractions are made in Step 3. In Step 4 Microcurrent is used before a calming Mask treatment is applied in Step 5.
60-min.Microcurrent Facial: $125
30-min. Individual Microcurrent Sessions: $75 ea.
Quench Derma Sound Elite Ultrasonic Facial: Includes LED Light Therapy
(A Maui Favorite)
Is your skin thirsty? Turn back the hands of time with a facial utilizing a complex serum designed to nourish and intensely hydrate the skin. A relaxing massage will follow the extraction treatment. Ultrasonic assists in the penetration, creating a dewy complexion that's silky soft and smooth. The finishing touch utilizes a specialty peptide / hyaluronic mask treatment, Growth Factors and LED light.
75-min. Facial: $100
Gentlemen's Facial
"A customized facial just for men " This facial will target most skin concerns for men. This includes a full signature facial addressing those ingrown hairs, irritation from shaving and blackhead extraction. The facial ends incredibly relaxing with a facial massage including face, neck, and shoulders.
60 – min 78.00
Add on a clinical peel for additional 35.00
Teen Facial
With a focus on treating acne break outs, this facial includes a purifying cleansing treatment, ultrasonic, an enzyme treatment, extractions, and a calming mask treatment. The treatment ends with Cooling Oxygen Boost to calm acne sensitive skin.
60- min Facial: $85
Radiant Vitamin C Facial/Brightening Peel
This is the Classic Facial with the added benefit of a highly effective Vitamin C peel that delivers immediate brightening results. Great for an uneven skin tone or anyone needing a brighter, more even complexion.
60-min. Facial/Peel: $95
Retinol Facial/Retinol Peel
The Classic Facial includes a Retinol Peel restoring a youthful look minimizing fine lines and wrinkles.
60-min. Facial/Peel: $95
Pumpkin Peel
The pumpkin peel presents a gentle soothing and hydrating solution to improve the texture of your skin. It is also loaded with antioxidants that help fight free radical damage. It also has natural enzymes to exfoliate and improve the tone of your skin.
$35
Glycolic-Lactic-TCA/BHA/AHA-Retinol-Salicylic
These peels can help reverse the signs of aging and improve skin conditions such as acne, pigmentation, imperfections, and fine lines.
The clinical peel session includes cleansing, ultrasonic, extractions, and mask treatment.
45-min. Peel: $75.00
10% discount on 3 Facial/Peel Packages
These services can be added on to your facial of choice
Oxygen Blast
You will experience a Pure Blue Oxygen Treatment infusing an amazing dermal complex consisting of Vitamins – Peptides – Amino Acids – and Antioxidants. This amazing complex will leave your skin nourished and hydrated.
25
Derma-Planing
This is a technique where the outer layers of skin are exfoliated with the use of a blade. Derma-planing is an effective way to resurface the skin.
30
Brow Shaping 25
Brow Waxing 15 Lip Wax 10
Bikini Wax 30
Chin Wax 10
Full face wax 45
Under Arm waxing 20
Lash Tint 30    Brow Tint 15
Lash Tint / Brow Tint Combo 40
Henna Brow Tint 30